As difficult as it is for data scientists to label data and develop accurate Machine Learning (ML) Models, managing models in production can be even more difficult. Data science practices are essential to recognize model bias, retrain models by updating datasets, improving performance, and maintaining core technology platforms. Without these disciplines, models can produce erroneous results that significantly impact the business.
Developing production–ready models is no easy task. According to a ML study, 55 percent of companies had not placed models in production, and 40 percent required more than 30 days to deploy a model. Success brings new challenges, and 41 percent of respondents acknowledge the challenge of changing ML Models and reproducibility.
The lesson here is that new barriers arise with the deployment of ML Models in production and use in business processes.
Model management and operations were once a challenge for more advanced data science teams. Tasks now include:
• Automating retraining models.
•          Alerting when the deviation is significant.
•          Recognizing when models require upgrades.
•          Monitoring production Machine Learning models for drift.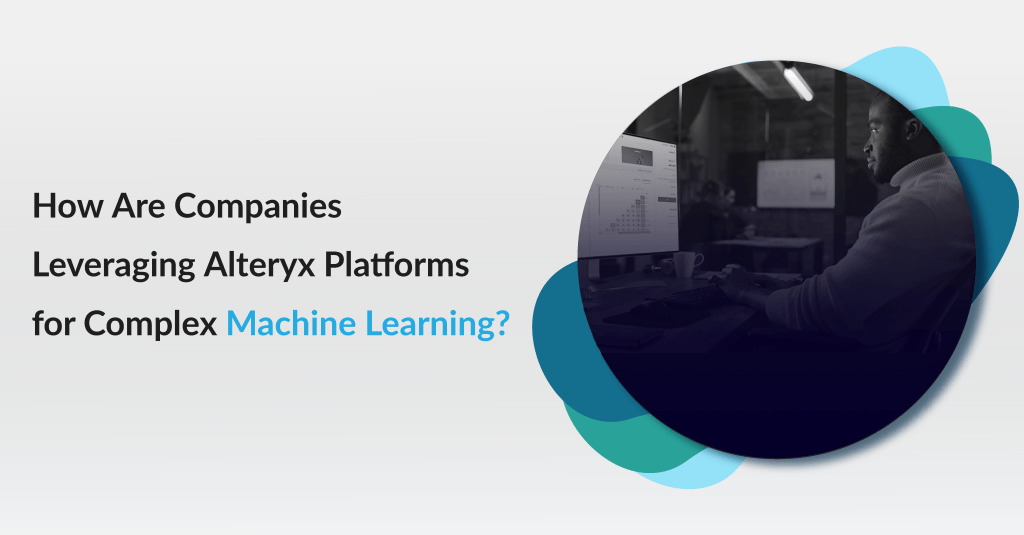 As more organizations invest in Machine Learning, the need to raise awareness of model management and operations grows.
The good news is that Alteryx simplifies model management and operation for data science teams.
You need to analyze your data and relevant external factors – such as hosting, competition, psychography, and geographic location. This insightful business intelligence analytics gives you what you need to capitalize on strategic market opportunities, beat your competitors and generate more revenue from your existing business.
This is where Alteryx comes into play. As a result, your only source for strategic analytics is software that provides the Business Intelligence, Data, and Analytics you need to make confident and informed decisions.
Alteryx provides a deep insight solution in hours, not weeks, by displaying blended and advanced analytical data with an intuitive workflow
chart.
By combining data blends and using predictive analysis methods, Alteryx strengthens the activities of data analysts in the workflow with reporting,
visualization, and analysis applications.
Often companies have to use different tools and services to manage an ML solution end–to–end, including:
•          Software engineering tools for writing and maintaining code;
•          Data management tools to clean, modify, monitor, and secure data;
•          Dashboard creation tools to interact with the solution and view the results;
•          Computing services for dealing with data and training Machine Learning Models;
Try to hide complexity, providing code–free user interfaces to integrate core Machine Learning.
As such, tools like Alteryx can be thought of as a higher level of abstraction that provides more consolidation at the expense of flexibility than using
lower–level tools directly.
Alteryx is an analytics–focused platform comparable to dashboard solutions like Tableau but with integrated Machine Learning components. It focuses on providing code–free alternatives to Machine Learning, advanced analytics, and other features that often require code.
Alteryx is a more comprehensive solution that provides codeless Machine Learning and Analytics, Data Management, and Dashboard Components.
The Alteryx platform, combined with its digital transformation experience and global market access, helps organizations reach solutions faster. The Alteryx platform provides end–to–end automation of providing analytics, Machine Learning, and Data Science processes. This allows organizations and individuals to improve their digital intelligence and share their innovations across a business and accelerate business results.
Based on the AutoML framework, Alteryx Machine Learning offers business analysts and data scientists a guided approach to building Artificial Intelligence (AI) Models through its early access program, open–source software that creates artefacts for Artificial Intelligence (AI) Models known as features from multiple datasets.
Alteryx Machine Learning also includes a built–in property store repository to manage these artefacts, an automated insight generation capability that makes it easy to uncover hidden factors and relationships within datasets and an integration with an Alteryx tool to automate the bundled data preparation tasks. In addition, it includes over 300 reusable building blocks and integrations with
various external data sources.
The low–code/no–code toolset that Alteryx provides makes it easy for teams of individuals with varying degrees of data science expertise to
collaborate.
However, as Artificial Intelligence (AI) capabilities in these apps become more accessible, their user base must expand beyond business analysts who have historically been the primary users of these apps. As a result, the number of users making fact–based decisions faster should steadily decline rather than rely solely on instincts from personal experience.
This managed Machine Learning Platform sells the concept that non–technical people can create Machine Learning solutions without engineers. But in practice, it is usually experienced Machine Learning Engineers who use these tools and services most successfully.