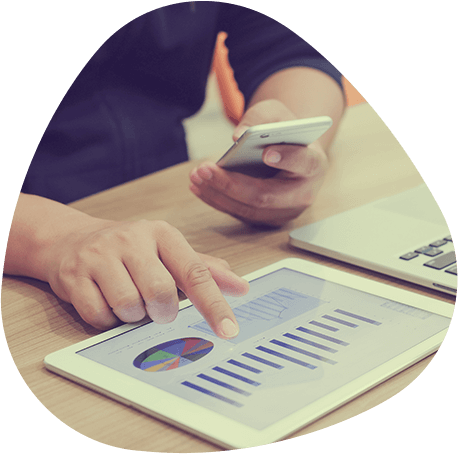 Intelligent automation enables banks and financial services companies to transform manual, data-intensive, operations while meeting stringent and constantly changing regulatory requirements. Achieve rapid ROI by deploying Robotic Process Automation within 3 months and realize immediate return on investment. Strengthen compliance by seamlessly accessing customer data to improve KYC/AML analysis, automate ongoing transaction monitoring, and track regulatory changes. Streamline operations & reduce risk by simplifying and automating manual processes, eliminate processing errors, and reduce operational risk.
To build customer trust and ensure continued profitability with balanced portfolio risk, financial services analysts need deeper operational insight, and a near-perfect understanding of their customers and prospects. Our team of experts can provide financial services institutions deeper insights through fast data preparation and blending, easy-to-use analytics, and simple ways to share analytics with decision makers. Access and blend all your data, structured and unstructured, to get one unified picture of the customer. Build analytical models quickly in a drag-and-drop environment to calculate the risk and profitability potential of an asset, a customer, or a location.
Our suite of content services solutions help financial institutions reduce their technology stack, consolidate and aggregate data from multiple disparate systems and provide employees with the information they need, when and where they need it.
Intelligent Automation
Accelerate Loan Processing
Simplify Account Opening
Optimize Trade Finance
Improve Compliance
Account Reconciliation
Monthly Account Reviews
Credit Card Requests
Credit Underwriting
Retail Credit Assessment
Retail Fraud Detection
Regulatory Reporting
Enterprise Information Management
Letter of outstanding dept.
Balance certificate
Outstanding balance
Certificate of employment
Customer release letter
Data & AI
Automating risk management
Managing customer data
Predictive analytics
Risk Analytics
Real-Time Analytics
Consumer Analytics
Financial Fraud Detection
Business Application Platforms
CRM app
Loan approval app
Insurance management app
Payment Automation
Purchase Order Automation
Purchase Request Automation
Business Central (Mehdi)